Our Opinion & Review Of Holzkern Watches
Holzkern is a premium wooden watch company that hails from Austria and brings some of the most amazing watches for their customers. If you were to walk around a Macy's watch counter, you wouldn't see anything like a Holzkern watch. They are incredibly unique – even if you are shopping other wooden watch companies – these will still stand out.
Our Holzkern Full Ratings
Overall Watch Quality:

★★★★★

(5 / 5 )
Customer Service:

★★★★☆

(4 / 5)
Design & Style:

★★★★★

(5 / 5)
Watch Durability:

★★★★★

(5 / 5)
Packaging:

★★★★☆

(4 / 5)
Holzkern Price & Value:

★★★★☆

(4 / 5)
What Makes Holzkern Different?
It is run by a team of experienced and enthusiastic entrepreneurs who come from Austria. One of the things we here at Wooden Watch Reviews really appreciate about Holzkern is that they partner some some of the best name watch brands and makers in the industry. In fact, you'll recognize many of the names they partner with like Citizen, Seiko, Ronda, and many other popular watch-making brands.
What Sets Holzkern Apart From Other Brands?
Holzkern has an impressive collection of wood watches. The number of watch styles and designs may even make your decision difficult.
You will find unique wood and stone watches made from hand, and the texture on each piece is breathtaking. If you are shopping for a wooden watch that also uses marble or stone accents, Holzkern is one of the very few brands doing it today.
The skyline collection is completely different from the wood/stone watches. It has a very urban design sense and will surely make the wearer stand out in a crowd.
Holzkern Stainless steel watches speak for durability and elegance. If you want that more sporty or technical design, many of the steel watches feature sub-dials inside that makes the watch look more modern and classy.
Long Lasting: The wood and stone watches from Holzkern aren't just a pretty face that will fall apart quickly. The movements that power the watches are manufactured by top Japanese and Swiss watch movement manufacturers that build for work for Citizen, Seiko and Ronda.

Holzkern Customer Support:
While many watch companies build a watch and then send the customer on their way, Holzkern offers some top notch customer service fore the life of their watches.
Men's Holzkern Watch Collections
Skyline Collection (42 mm)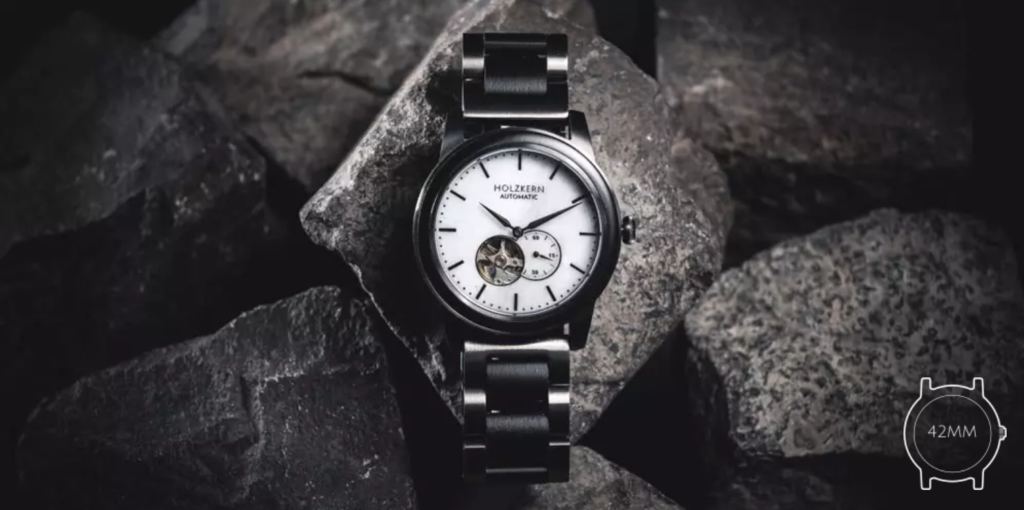 Holzkern's Skyline watches are one of their more modern watch collections and feature construction of stainless steel, stone & wood all beautifully blended in unique ways. They have a 42 mm case diameter. This is considered an average watch diameter for men and will fit most men's wrists comfortably.
They feature an automatic movement and display this high-end watch feature with a small sub-dial window that looks inside the watch from the front and a window on the back for a clear view of the mechanical movement. It also keeps time without needing a battery. And additional subdial keeps track of the seconds as well.
The Skyline collection includes about 8 different color combinations ranging from stainless silver and mahogany to a modern looking blue steel and olive wood combination.
Who Is the Skyline Collection For? If you want a wooden watch that also has the upscale luxury of an automatic movement. Holzkern should be one of your first stops to shop.
How much does the Skyline Collection Cost? Holzkern Skyline Prices start at $379 and range up to $419
4 Seasons Collection (40 mm)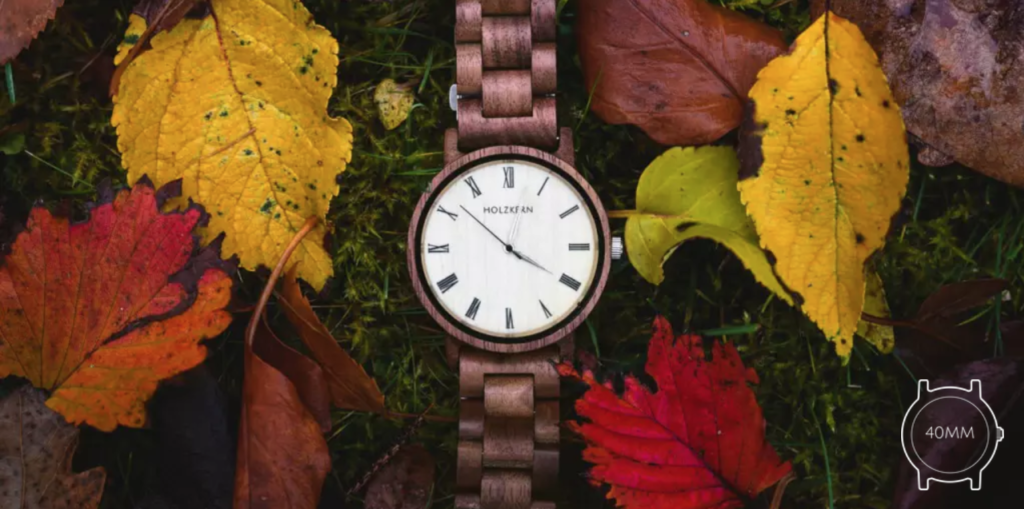 The Holzkern 4 Seasons Collection offers a little bit of everything for anyone searching for a wooden watch with a classic style and a classic fit. The 40 mm face falls into an average size for men – but the classic styling would also work for a woman looking for a slightly larger watch face.
The 4 Seasons collection is on the more moderate price range for Holzkern, starting at $159 dollars.
If you want a simple watch style (no extra dials, buttons, windows or flash) but love that warm rich, wood colors paired with the cooler and solid style's of marble – this is the collection for you. The watch bands are made from the same solid woods as the face and range from Paduak or Leadwood to teak, walnut and zebrawood. The marble colors show beautiful natural grains of the marble and the colors are paired to match the wood.
The face has an inset metal ring and metal time markers, that add a quick flash of light and sparkle on the right angels – we love this feature!
This collection also features a high quality quartz movement from Citizen to power the marble backed face.

Stairway Collection (43 mm)
Camelot Collection (45 mm)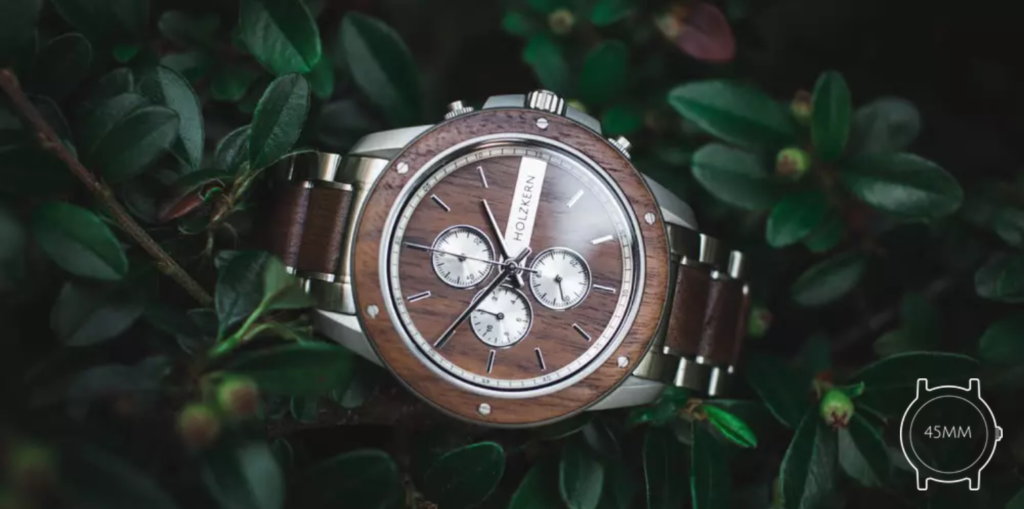 At first everyone thinks King Arthur when you hear the name Camelot since it was his fabled home castle. At first this might not seem like a natural connection between the knights of the round table and watches. Well leave it to Holzkern to find something to connect the two.
The knights of the round table were actually the inspiration for the Holzkern Camelot Collection. When you get your first glimpse of this collection of men's watches with stainless steel cases, marble face and round wooden bezel it makes sense.
Our favorite part of this collection is the interchangeable wooden bezel that surrounds the stone faces. At 45mm this is a larger man's watch and feels solid and weighty on your wrist.
Holzkern also uses some more interesting wood choices for a few watches in this collection, ranging from Apple Wood to Amaranth and Padauk.
Horizon Collection (45 mm)
Summit Collection (45 mm)
Inspired by nature and mountain tops, the Summit Collection is one of Holzkern's larger watches with a 45 mm diameter. It is also one of their more modern styles. This collection pairs a clean marble face with chromatic metal rings of different colors all set inside the wood of your choosing.
So who is the Summit Collection For? If you are looking for a watch from a top end wooden watch company but still in the $200 price range, it's a good place to start. Finally, if you are shopping for that man who wants his watch to get noticed and give off a classic vibe from a distance – but offer a little more modern touch and flair when you get closer to his wrist, definitely go for the Summit Collection.
The price for the Summit Collection starts at $199.
Nautic collection (43 mm)
Cross country collection wood (45 mm)
Cross country collection leather (45 mm)
Classic collection (42 mm)
Sundance collection (40 mm)
Highline collection (42 mm)
Holzkern Watch Pros
Top quality wooden watches & designs
User-Friendly website.
A wide range of watches available.
Affordable price.
Professional staff (addresses queries quickly).
Holzkern Cons
Too many watch options can make users confused to buy one.
Hozlkern Review Conclusion
Shopping the Holzkern website is almost like going to a museum. They have so many different styles and pieces of art to look it. You can spend hours looking and researching to find the perfect watch from them. But the good news is that it's almost impossible to make a wrong decision.
Regardless of what style wooden watch you want, whether it's marble, wood, steel – Hozlkern will have a top-quality, luxury watch to fit your tastes.
Holzkern Warranty And Guarantee
We have reviewed many wooden watches and many watches from Holzkern and they are some of the highest quality wooden watches on the market and some of the best styles – regardless of what you are looking for.
Hozlkern offers a 24-day money-back guarantee
They offer a generous 24-month warranty against any manufacturing defaults that come up during the life of your watch.
Wooden Watch Brands Similar To Holzkern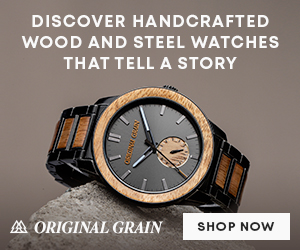 BeWell Watches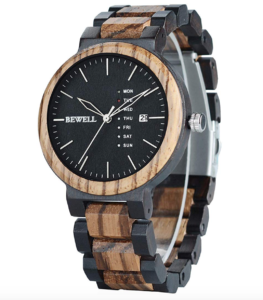 Original Grain Watches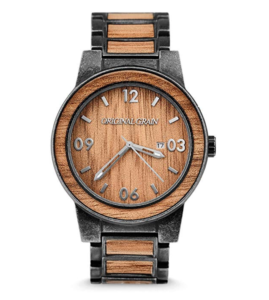 Burnham Watches